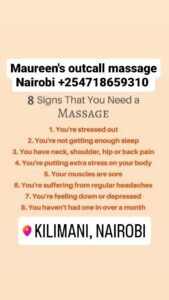 How to know it's time to book for a relaxing massage session.
1. You're stressed out
2. You're not getting enough sleep (insomnia)
3. You have body pains (neck pain, upper and lower back pain, hip pain and random headaches).
4. Your body is stressed (you feel anxious)
5. Your muscles are sore
6. If you haven't had a massage in over a month
book your massage session now at the comfort of your apartment or hotel room within Nairobi.
I'm readily available for you
Call +254718659310
WhatsApp wa.me/254718659310
Website www.nairobimasseuse.co.ke
#massage #nairobi #outcall #hotelmassage #homemassage #massagenairobi