A massage can improve your mental wellness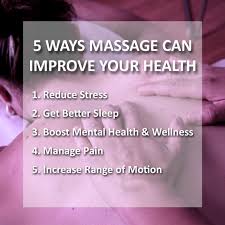 5 WAYS A MASSAGE CAN IMPROVE YOUR MENTAL AND PHYSICAL WELLNESS
Massage services can play a major role in your health regimen. You can either decide to make it a regular thing or an occasional thing. We all need to take care of ourselves and what better way to do that than getting a full body massage right?
Today we are looking at what research says about massage for both health and wellness.
1. Reduces stress
Getting a massage might actually help in reduction of stress and anything associated with it like mild headaches, one sided headaches, anxiety and depression. Just get a massage and see how that goes.

2. Get better sleep
The main aim of getting a massage is to unwind and relax… if you have back pain, insomnia and other health conditions then you end up getting a nice relaxing full body massage your body becomes so relaxed such that it translates to a healthier sleeping habit
3. Boost mental health and wellness
Stress anxiety and depression is directly related to mental health. In this case getting a massage will positively impact your mental health.
4. Manage pain
is is for those suffering from lower or upper back pain, sports injuries or headaches. Massage services helps in pain reduction, injury rehabilitation and in return it positively affects your work or personal life output.
5. Increase range of motion
This best works for athletes because it reduces tension, improve exercise performance and prevent injuries.
You can easily book for a massage in Nairobi you can either go to a spa or call a massage therapist to your home or hotel room.